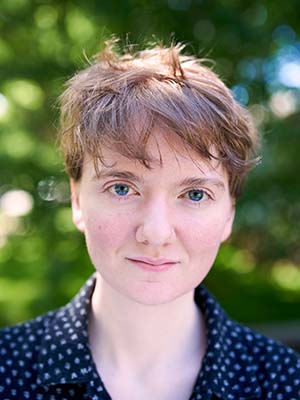 Abigail Marsh
amarsh1 @ macalester.edu
Assistant Professor of Computer Science
Department of Mathematics, Statistics, and Computer Science
Macalester College
I am an Assistant Professor of Computer Science at Macalester College.
I research usable privacy, particularly how families with teenaged children negotiate teens' privacy and online safety. I am broadly interested in studying how to make online privacy inclusive of marginalized and under-researched populations.
Read more about me here.
Courses
Fall 2019
This semester, I am teaching two sections of COMP 240, Computer Systems Organization, and a section of COMP 127. If you are a student in these classes, please refer to the Moodle page for assignments, textbooks, and other information.
Previous Affiliations
Prior to joining Macalester College, I was a PhD student at Carnegie Mellon, in the Societal Computing Program. I was advised by Lorrie Cranor and unofficially by Julie Downs in the Social and Decision Sciences department. I was also a member of CUPS Lab within CyLab at CMU.
I received an undergraduate degree with a double major in Computer Science and Mathematics at Oberlin College in May of 2013. I was advised by Benjamin Kuperman and Tom Wexler in Computer Science, and Kevin Woods in Mathematics.
Publications
Maggie Oates, Yama Ahmadullah, Abigail Marsh, Chelse Swoopes, Shikun Zhang, Rebecca Balebako, and Lorrie Faith Cranor. Turtles, Locks, and Bathrooms: Understanding Mental Models of Privacy Through Illustration. Accepted, to appear in the Privacy Enhancing Technologies Symposium, 2018.
Abigail Marsh, Lorrie Faith Cranor, and Julie S. Downs. Experts' Views on Digital Parenting Strategies. CyLab technical report, CMU-CyLab-17-002, 2017.
[PDF]
Pedro Giovanni Leon, Ashwini Rao, Florian Schaub, Abigail Marsh, Lorrie Faith Cranor, Norman Sadeh. Privacy and Behavioral Advertising: Towards Meeting Users' Preferences. PPS, SOUPS workshop, 2015.
[PDF]
Lorrie Faith Cranor, Adam L. Durity, Abigail Marsh, and Blase Ur. Parents' and Teens' Perspectives on Privacy In a Technology-Filled World. SOUPS 2014.
[PDF]
Rebecca Balebako, Abigail Marsh, Jialiu Lin, Jason Hong, and Lorrie Faith Cranor.The Privacy and Security Behaviors of Smartphone App Developers. USEC, NDSS workshop, 2014.
[PDF]
Speaking
Presentation at The Carnegie Mellon University - K&L Gates Conference on Ethics and AI, April 2018.
Parents' and Teens' Perspectives on Privacy In a Technology-Filled World. Presented at SOUPS 2014, in Menlo Park, California.
[PDF]